Midas is a boxer owned by a US Marine combat-veteran and is trained as a Service Dog to assist Sgt Juan Valdez in his recovery and daily stability. Since Midas has come into Juan's life, his symptoms of PTS have decreased, been managed, and Juan and Midas find joy in life through Midas Cares, DoD's new initiative to help raise awareness for the benefits of Service Dogs in combating and managing the effects of Post Traumatic Stress and other war injuries for our returning troops.
Midas and Juan are on a mission to help another military member experience those benefits. HM2 Mark Nicolas was a Navy Corpsman from Middleboro, Massachusetts. He joined the Navy in 2005, and deployed to Husaybah , Iraq in 2007. The things he experienced as a medical personel handling the battle wounds of his fellow troops was something that would hurt to imagine, let alone to be the one to actually remember.
Mark and Juan with Midas, a PTS Service Dog, and Libby, a future Service Dog.
When Mark returned home, he began showing symptoms of of PTS; feeling unsafe in public, experiencing night terrors, and constantly coping with emotional overload. Still, in 2014, these symptoms can be hard to manage. But not impossible, and that's where Libby comes in.
Libby is a rescued mix of Boxer and Chocolate Lab that Mark adopted at 8 months old in 2011. She's petite at 45lbs, and shows immense potential to be a certified Service Dog for Mark, allowing him to not only ensure that Libby can always be with him, but providing Libby with the training she needs to recognize that symptoms of PTS, and immediately respond to Mark's emotions, providing him comfort and a sense of security.
"Libby is my only constant when the rest of the world may seem like its falling apart. She's already my life saver, my reason to be. She's the only piece of my life that even remotely simulates the sense of brotherhood I had with my Marines. Something that I miss more than anything in this world," reflects Mark.
And now we come full circle to how Dogs on Deployment and Midas Cares aim to help. The cost to train a Service Dog is upwards of $3000 to include extensive training and certification. Juan has done his research, and found a great organization, Semper Obedient K9s, who was founded by Nick Zamagni, who honorably served in the US Marine Corps infantry until 2010.
Dogs on Deployment is also participating in Crowdrise's Veterans Charity Challenge 2, where the organization who fundraises the most by July 3rd, will receive a donation of $20,000 from Craig Newman, founder of Craigslist. Through Dogs on Deployment's initiative to help companion military pets, and Midas Care's initiative to help Service Dogs for veterans, our fundraising goals are all-encompassing for today's military pet owners.
Make a contribution at Midas' fundraising link to help Midas raise the $3000 needed to get Libby trained, and your donation will also help Dogs on Deployment win $20,000 to help other military pets.
Sgt Juan Valdez, a Marine combat-veteran and owner of Midas, a PTS Service Dog, and Dogs on Deployment's 2014 Military Pet of the Year and DoD Mascot, has his first public appearance with Fox 25 Boston News where he talks about his experiences, the help Midas gives and how Dogs on Deployment is making a difference.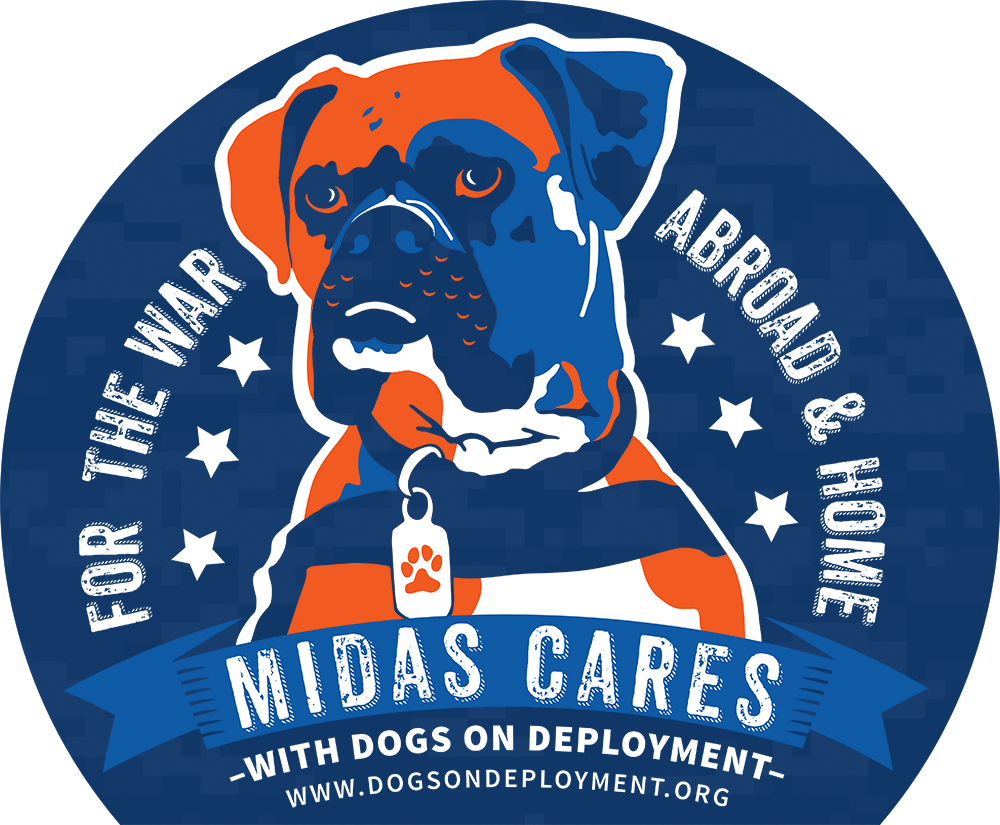 In 2014, Dogs on Deployment held its annual Military Pet of the Year and Mascot competition. We had over 50 contestants of military pets of all shapes, sizes, backgrounds and more. After a 30 day voting period, the winner by popular vote was announced as Midas, a PTS Service Dog for a Marine combat-veteran, Sgt Juan Valdez. Juan and Midas had dreams and goals to improve the veteran service dog community. With Dogs on Deployment's help, Midas Cares is launching full force to accomplish their mission and goals.
Mission
To bring awareness to the benefits of using service dogs, and other holistic alternatives to treat service members and veterans with PTS,TBI, and MST victims. Help veterans locate a service dog program in their area that can satisfy their needs. Lastly to advocate for veterans everywhere who are not receiving the care they deserve from the Veteran Affairs Department.
Goals
Help veterans cope with issues such as Post Traumatic Stress, Traumatic Brain Injuries, MST
Help veterans fight for their rights to fair medical treatment
Help strengthen Americans with Disabilities Act regulations, and increase the legitimacy of service dogs
Bring awareness to issues plaguing veterans returning from oversees
Lower the suicide rate of Service Members and Veterans through Service Dog assistance
Establish a network of service dog organizations that help veterans in need
Work with Psychiatrist, and therapist in order to come up with a strategy to best employ service dogs for veterans
Make sure to LIKE Midas on Facebook. You can even make a direct donation to his cause here! Help Midas get a start in Midas Cares!